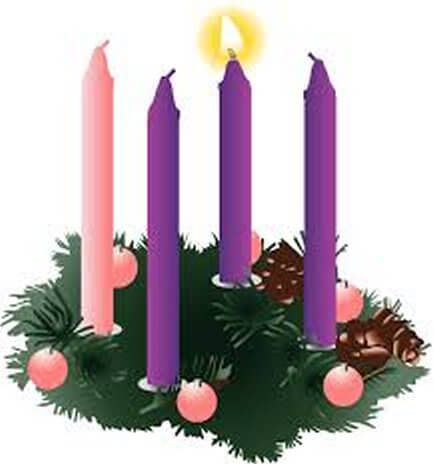 Advent by Candelight will be held on
Friday, December 6
in the Parish Center of St. Andre Bessette and is open to all three of our parishes.
Advent by Candlelight is a beautiful tradition which has been held at St. Andre Bessette Parish for the past eight years. It is to
be an evening of relaxation and sharing the spirit, with the hope that the season of Advent will become more meaningful
to all.
The program will include the lighting of Advent candles, a Gospel reading by Father Okeke and a short homily.
After the homily, everyone breaks for the social portion of the program. We then close the evening with the singing of Carols
around the Christmas tree and the nativity scene.
What does a Host or Hostess have to do?
A Host or Hostess signs up and is assigned a round table for 8 guests (including the host). There is no admission charge, however, we do ask every guest, to please bring a can or two of food to be used for the Christmas baskets to be distributed to those in need.
The host/hostess decorates and supplies a centerpiece (which is to hold a candle), as well as dinner place settings including coffee cups/glasses. You may choose to bring a dessert and/or appetizer to share. The Parish will provide coffee, tea and water, but you are welcome to bring other beverages, please no alcoholic beverages.
Please remember, this is not a competition to see who can have the have the "best decorated table".
In fact many host/hostess have switched to paper products instead of their fine china and this is absolutely fine. If you feel this may be too much for one person, many have had a Host and a Co-Host, so whatever arrangement works best for you is acceptable.
Sign-up sheets are located at the main entrance of the churches. If you cannot be a host or hostess, please sign up as a guest at any table where there is a vacant space.
This is a beautiful tradition to prepare for the Advent season. I hope that you and your family will be able to attend.
If you have any questions, please call Teresa Shekerdemian at 313-320-7488 or email at pcteresa06@aol.com