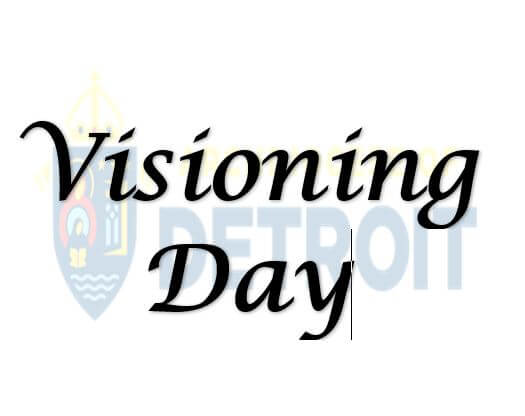 Sign up for the Missionary Strategic Planning Session
Sunday, March 15 – immediately after 11:30 Mass
dinner will be provided
---
We are being Sent on Mission!
Our Parish is currently participating in Sent on Mission, which is the second phase of our movement to Unleash the Gospel in the Archdiocese of Detroit. It's about the missionary transformation of all parishes and schools so they continue to grow and thrive as places where individuals and families encounter Jesus anew, grow as his disciples and are equipped to be witnesses of the Risen Christ.
As part of this next phase, every parish will embark on a process to create a Missionary Strategic Plan (MSP). This bold plan will be written by our Pastor and our Parish Leadership Team. It will guide our parish activities as we discern how God is calling us to dive deeper into our identity as a missionary parish.
As we develop our MSP, we will prayerfully respond to the Spirit's direction in six key areas, or propositions: Family Evangelization, Parish Culture, Parish Function, Sunday Experience, Catholic Schools, and Communication and Technology. But our Pastor and our Leadership Team cannot do this alone. We need your help!
To get your input to the MSP process, a Parish Visioning Day has been scheduled to hear what you have to say. Please mark your calendars for
St. Mary Magdalen – Saturday, March 14 in the Fellowship Hall
Ss. Andrew & Benedict – Sunday, March 22 in Roosen Hall
(a meal will be provided)
More information will be forthcoming on these propositions, but in the meantime you can prepare for this important meeting by doing the following:
Pray! Prayer is the foundation of everything we do.
Read or listen to Archbishop Vigneron's Unleash the Gospel pastoral letter. If you've read it before, please do so again while discerning what this means for our parish. Visit: unleashthegospel.org/the-letter.
Learn more about this next phase of Unleash the Gospel. Visit: unleashthegospel.org/next.
As we prepare for our Parish Visioning Day, I invite you to reflect this week on the final two areas that will be part of our MSP: Catholic Schools and Communications and Technology.
Catholic Schools Proposition
In Unleash the Gospel, Archbishop Vigneron has this to say about Catholic Schools:
"I confirm, in light of what I heard the Holy Spirit say to our local Church through Synod 16, that Catholic Schools are an apostolate that is the responsibility of all parishes and all Christ's faithful. This conviction needs to be a foundational principle for the renewal of this ministry."
Our MSP will address how our parish will support Catholic Schools.
Communications and Technology Proposition
In the area of Technology and Communication, the Archbishop says that we must:
"Invest in people, processes and tools that ensure effective, anticipatory and responsive communication to all those engaged or seeking engagement with the Church (internally, as well as with parishes, parishioners and the public)."
Our MSP will address how our parish will use Technology and Communication to be more intentionally missionary.
In the spirit of Blessed Father Solanus, let us thank God ahead of time for our parish's continued missionary transformation.
In Christ,
Father Cornelius Okeke