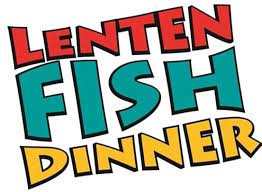 Dine In – Carry Out
Dinners will continue every Friday during Lent (including Good Friday) 3:30 p.m. until 7:00 p.m. or sold out.
Good Friday dinner (April 7th) will begin after the Good Friday Liturgy until 7:00 p.m. or sold out.

Dinner Options:
Salmon Patties or Shrimp, Baked / Fried Cod ($11)
Homemade Macaroni & Cheese ($9)
Grilled Cheese Sandwich ($8)

Dinners include your choice of one:
Baked Potato, French Fries, or Macaroni & Cheese.
Also included will be Coleslaw & Bread & butter.

If you would like to pre-order your Take-Out dinner for a specific pick up time, call (313) 383-8514 extension 17 or 734-288-7996 Friday after 9:30 am. Pre ordering also ensures you your choices before we run out! Dinners are open to everyone – not just our parishioners. Please invite your family and friends to order or join you for a deliciously prepared meal !!

March 24 Appetizer Special
Ceviche
served with tortilla chips(jalapenos and sour cream on the side)
Children's Dinners are available but are ½ of an Adult portion $5
Fresh desserts will be available for purchase!
Calling all Bakers / Necesitamos panaderos Our delicious Lenten Dinners would not be complete without desserts made by the Magnificent Bakers of the parish. I am inviting our bakers to create a delicious dessert to share with the parish family for the upcoming Lenten Dinners on March 24th, 31st, and April 7th (Good Friday). All desserts can be dropped off weekly at the Parish Center (Back Door) any time after 9:30 a.m. on all Fridays (including Good Friday) during Lent.

Nuestras deliciosas Cenas de Cuaresma no estarían completas sin los postres hechos por los Magníficos Panaderos de la parroquia. Estoy invitando a nuestros panaderos a crear un delicioso postre para compartir con la familia de la parroquia para las próximas cenas de Cuaresma los días 24, 31 de marzo y 7 de abril (Viernes Santo). Todos los postres se pueden dejar semanalmente en el Centro Parroquial (Puerta Trasera) en cualquier momento después de las 9:30 a.m. todos los viernes (incluyendo el Viernes Santo) durante la Cuaresma.