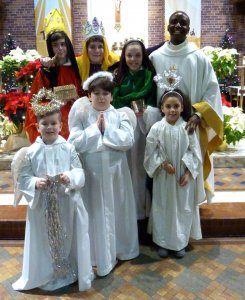 The 2019-2020 Religious Education school year will begin on Monday September 16, 2019.
All classes, grades 1st-8th grade will be held on Monday evenings 6:00-7:15 p.m. in the parish center.
A mass will be held in the church to open the school year.
Parents and students are invited to attend at 6:00 p.m. at the church.
Students will be welcomed into the parish center for class following the mass.
A schedule for the school year will be posted on the website as well as sent home to all families soon.  We look forward to another blessed school year!
Religious education registration is now closed and we look forward a blessed school year.
Parent volunteers are always welcome and needed for our program. Parents who are interested in volunteering in any capacity for religious education are required to have completed the workshop on Protecting God's Children. This is a requirement for anyone in the church that will be working with children.
An upcoming workshop will be available in English on Friday, September 6th, 6:00-9:00 p.m. at Christ the Good Shepard (Lincoln Park).
Another workshop will be available in Spanish at Holy Redeemer Parish (Detroit) on Tuesday, September 3, 2019 at 6:00-9:00 p.m.
Other workshops are available and can be found on the Archdiocese of Detroit website: www.aod.org
Please contact the religious education office if you have any questions and please consider being a volunteer.
Parking Lot Rules
Entrance: One-Way access from W. Jefferson Avenue. Exit: One-way via Outer Drive.
Parents of children attending Monday classes must walk their child into the parish hall and pick up their child from the parish hall. No stopping in front of the door for drop offs or pickups.
Contact
Vera Rodriguez, Director of Religious Education
313-383-8514 ext. 16
vrodriguez@standreparish.org
Click here for more information on Protection God's Children
---
Religious Education News & Events
Winter Closing Due to Bad Weather
If Ecorse Public Schools are closed, due to severe weather, Religious Education classes are CANCELLED.
Monday, March 30th, 2019Attention Religious Education StudentsGrades 5th – 8th The Lenten Parish Mission will be held at St. Mary Magdalene over the course of three evenings beginning Sunday, March…